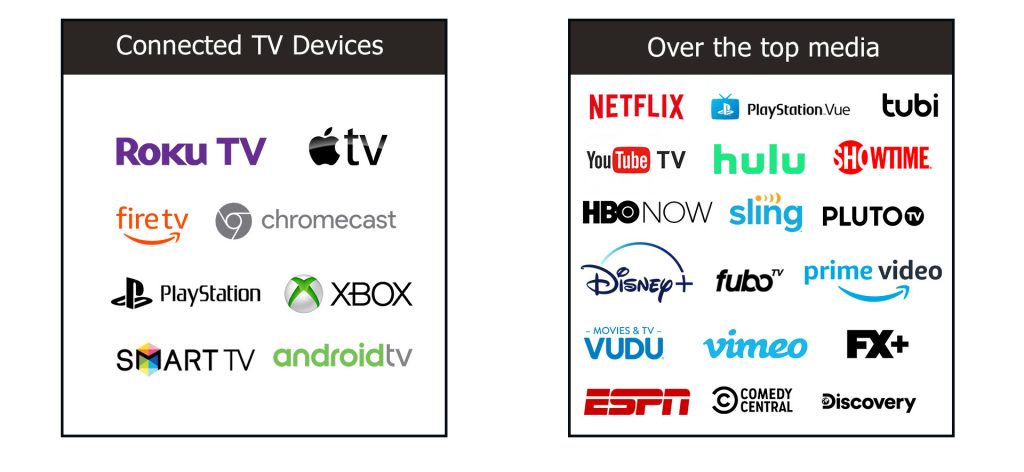 Digital campaigns have become increasingly interested in streaming television content in recent years. Streaming TV is an important part of your digital strategy, so you should understand how it fits into the digital media landscape. We should first learn how over-the-top (OTT) differs from connected TV (CTV).
Some people confuse these two terms or use them interchangeably. The reason is that they refer to related aspects of television digital advertising. Advertisements on connected TV devices are delivered through OTT and CTV. If you understand how the two work, you will be able to speak confidently about CTV advertising and select a DSP that offers the features that you need. It will give you the ability to create digital campaigns that maximize their impact.
Over-the-top (OTT): What it is.
Over-the-top (OTT) services deliver television content over the internet and through traditional, closed systems. TV content can be viewed via OTT without being a subscriber to a traditional cable or satellite provider. The term "OTT programming" includes any content that is streamed over the internet.
Video on demand (VOD) or streaming content is delivered via OTT. Amazon Prime, Netflix, Hulu, and Crave are a few of the most popular OTT services. There are now a lot of well-known entertainment companies offering their own OTT services. NBC Universal's Peacock OTT service launched in 2020, and Disney+ launched in 2019.
OTT content can be accessed without a traditional cable or pay-TV subscription. They can stream OTT over the Internet as long as they have a device, such as a mobile phone or smart TV.
CTV stands for Connected TV
Any TV that is capable of streaming digital video is called a CTV. A Smart TV or TV equipped with a streaming device is included in this category. The ability to stream digital video to a TV via Roku or Chromecast, or even from a gaming console, such as the Xbox or Nintendo Switch, makes it a connected TV. In order to understand CTV's role in OTT content, you need to realize that a lot of OTT content is consumed via CTV.
Cord-cutting is the phenomenon of canceling cable or satellite subscriptions or without paying for television channels because of the rise of CTV. In addition, viewers can also be said to be cutting back on subscription-based TV in favor of internet-based content. The main reason for cord-cutting is consumer control and flexibility. Content that is streamed is often cheaper (sometimes for free), making it an economical alternative to satellite or cable TV. Consumers are drawn to it because they can watch what they want, when they want.
CTV vs. OTT: The Differences
Let's take a closer look at their key differences to really understand OTT and CTV. By knowing what makes OTT different from CTV, we can understand what CTV offers. understand what role both of them play in the programmatic advertising landscape.
OTT includes apps and services that do not require subscriptions to traditional cable or pay-TV. CTV is a subset of OTT. Therefore, OTT refers to the method of delivering video content, and CTV to the device on which that content is viewed.
I'll give you an example. Watching Netflix on a mobile device means viewing OTT content. What if they plugged a Chromecast into their TV and watched Netflix? They are streaming OTT content via CTV.
Connected TV Advertising
When it comes to digital advertising, it is important to understand the difference between OTT and CTV. CTV ads can be bought programmatically, CTV is likely to be an advertising channel offered by your DSP. CTV will run your ads, but they will be served over-the-top.
CTV advertising is beneficial in many ways. Advertisers can reach cord-cutting households, which are a growing market, with CTV ads. CTV usage is on the rise. As of 2020, there will be 31.2 million cord-cutter households in the US, up from over 6 million in 2019. Moreover, most CTV subscribers watch ad-supported content. Among Americans and Europeans, free-to-view television programming is preferred over ad-free TV.
In addition to reaching an engaged audience, CTV has other benefits as well. Unlike traditional television advertising, CTV advertising does not have restrictions on ad pricing or broadcast schedules. Real-time reporting, as well as enhanced targeting options, are included. Campaign setup and targeting with CTV are similar to those of other programmatic media buys like display, native, and video. In other words, you can measure campaign progress while it's still live, as with any programmatic campaign.
CTV ads differ from other types of programmatic media in that the metrics you should track are different. CTV viewers don't have the option of clicking right away as they would with a display advertisement. Consequently, CTV is best for raising awareness. CTV campaigns should be measured through metrics such as video completion rate (VCR) and cost per completed view (CPCV). In addition to QR codes, we're seeing them resurface as part of a CTV strategy. A QR code displayed on CTV can be scanned by an audience member's mobile phone to access your landing page by embedding it into an ad. Using QR codes, you will be able to track the traffic traveled to your landing page through the CTV ad.
Connected TV - Reach an Expanding Audience
You can reach viewers where they are by leveraging CTV, which is on more and more TV channels. In the United States, 80% of households now own a CTV device. eMarketer estimates that this percentage will reach 87% by 2025. CTV advertising makes sense because this audience is rapidly growing. You can use CTV to provide the awareness component of a cross-channel or full-funnel campaign if you're ready to add CTV to your digital strategy. Using this method, you can reach a captive audience, whom you can later target across other devices.